Singapore offers a large variety of sightseeing attractions and fun things to do for children and families. Listed below are some of Singapore's best activities and places of interest for kids and families.
Singapore Zoo and Singapore Night Safari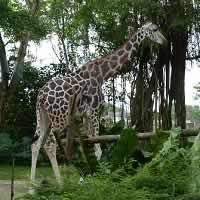 LOCATION: 80 Mandai Lake Road
COST: Expensive
Singapore Zoo is a large open enclosure zoo with 2,800 animals. Children enjoy the animal shows and interactive animal feeding sessions at Singapore Zoo. Probably the most fun that kids have is at the Wet play area where they get a chance to get drenched. The Singapore Night Safari is next door to the Zoo and it is the world's first night zoo. The 2,500 nocturnal animals and entertaining animal shows make the Night Safari an unique experience. Both the Singapore Zoo and Night Safari are among the most visited tourist attractions in Singapore.
TIP: Take an extra change of clothes, towel and swimwear. Drink a lot of water and apply sunscreen. A full day may also not be enough to see all the animal enclosures and shows. Purchase a Tram ticket to reduce walking.
Please visit this page for more information on Singapore Zoo and more information on Night Safari, Singapore.
---
Jurong Bird Park, Singapore: Fun and Education For Kids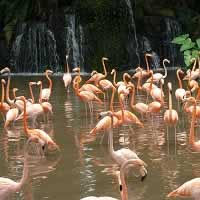 LOCATION: 2 Jurong Hill
COST: Expensive
With 5,000 birds, Jurong Bird Park has the largest number of birds of any zoo or bird park in the world. Jurong Bird Park is not just visually stunning; it is also a great educational place for children. Kids will especially enjoy the bird shows, pelican feeding and the Lory Loft where the Lories will climb onto their hands and shoulders to feed off small containers in their hands. Another favorite of children is the wet play area where they can get wet in water puddles and slides.
TIP: Take an extra change of clothes, towel and swimwear. Drink a lot of water and apply sunscreen.
Please visit this page for more information on Singapore's.
---
Singapore Universal Studios: Fun For Kids And Adults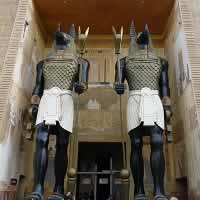 LOCATION: Sentosa
COST: Expensive
Universal Studios Singapore has something for the entire family, including thrilling rides, live adventure shows, musical shows, 4D movies, movie characters, parades, food and drinks. Ideally it takes two days to enjoy all that Universal has to offer. Visitors may want to visit Universal on two consecutive days, since there are good deals on two day tickets. Most shows and some rides are in air-conditioned halls, which is ideal when trying to escape from the heat.
TIP: The two day ticket and the annual pass are reasonably priced and offer a good bargain.
Queues at popular attractions, like roller coasters, tend to be smaller when the live action shows are on. Also queues are smaller in the afternoon and towards closing time.
---
Gardens By The Bay: Nature and Fun for the Family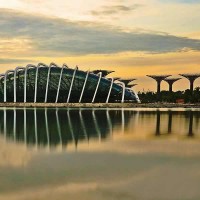 LOCATION: Marina Bay
COST: Free to Expensive
Singapore's "Gardens By The Bay" has many fascinating things to do and see for the entire family. What makes Gardens By The Bay unique are the "Cloud Forest" (conservatory with a 35 Mt waterfall), Supertrees (tree shaped gardens rising to 50 meters), "OCBC Skyway" (scenic walkway between two Supertrees) and "Flower Dome" (the world's largest column-less glasshouse). Kids will have a great time at the Far East Organization Children's Garden. Other key features of Gardens By The Bay are two lakes, waterfront promenade, light and music show at OCBC Garden Rhapsody, Heritage Garden, Sun Pavilion and Flower Market. Entry to Gardens By The Bay is free, except Flower Dome, Cloud Forest and the Skywalk.
TIP: Do remember to take a change of clothes and towel for kids, because they will love to get wet in the Children's Garden. This garden is closed on Monday or Tuesday if Monday is a public holiday.
Please view this article for more information on the Best Gardens and Parks in Singapore.
---
Singapore Botanic Garden is a Great Place For The Family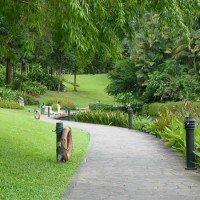 LOCATION: Holland Road and Napier Road (South), Cluny Road (East), Tyersall Avenue (West), Bukit Timah Road (North)
COST: Free
The 74 hectare Singapore Botanic Garden is a wonderful place for the family to spend time. This huge garden has three lakes, a stage for concerts, Children's play area, a café, the amazing National Orchid Garden and many themed gardens. Among the theme gardens are Rain Forest Garden, Evolution Garden, Healing Garden, Ginger Garden, Bonsai Garden, Fragrant Garden, Sun Garden, Foliage Garden, Tan Hoon Siang Misthouse and Trellis Garden. Young children will love to spend time at the Jacob Ballas Children's Garden. Musical concerts are held at the Shaw Foundation Symphony Stage, with audience members sitting on the beautiful lush lawn before it. Singapore Botanic Garden is home to the National Orchid Garden which is home to around 3,000 Orchid species. It is the only part of the garden that has an entry fee.
TIP: Singapore Botanic Garden is close to Singapore's famous shopping area of Orchard Road. Combine shopping and recreation.
Please view this article for more information on the Best Gardens and Parks in Singapore.
---
SEA Aquarium: Education and Fun For Children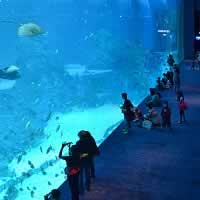 LOCATION: Sentosa
COST: Expensive
The South East Asia (S.E.A.) Aquarium is the second largest aquarium by water volume in the world. It has over 800 species and over 100,000 marine animals. A stunning visual at the S.E.A. Aquarium is the 115 ft wide and 27 ft high viewing area where visitors see up close some amazing fishes. Since the Aquarium is completely air-conditioned, it's a great place to get out of the sun on a hot Singaporean day.
TIP: Multi day combo tickets are available for SEA Aquarium and Adventure Cove Water Rides.
---
Sentosa Beach: A Free Activity For The Family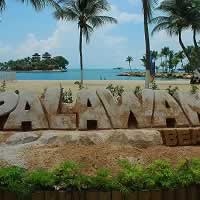 LOCATION: Sentosa
COST: Free
Sentosa has three pristine beaches – Palawan Beach, Siloso Beach and Tanjong Beach. Kids and parents can enjoy activities such as swimming, beach games, water sports, cycling, barbequing and much more. Sentosa is a predominantly tourist destination, which offers many attractions, activities and dining options. A day at Sentosa and its beach make it an ideal family outing. Access to all three beaches is free.
In addition to Sentosa, Singapore has many other interesting beaches (like Changi Beach, Unggol Beach, Sembawang Beach) and wonderful park beaches (like West Coast Park, East Coast Park, Changi Beach Park, Pasir Ris Park, etc).
---
Sentosa Attractions And Rides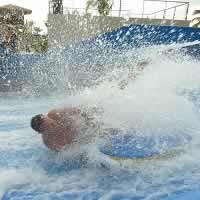 LOCATION: Sentosa
COST: Expensive
Sentosa Island has been developed as a fun place for the family. Sentosa offers many activities, rides, attractions, hotels and dining places for visitors of all ages. Key family attractions include Universal Studios, S.E.A. Aquarium, Port Of Lost Wonder (for kids below 12), Adventure Cove Waterpark, Kidzania, Madame Tussauds Singapore, Tiger Sky Tower, Zipline, Underwater World and Dolphin Lagoon, two Golf courses, Sentosa Nature Discovery, Butterfly Park and Insect Kingdom, Wave House Sentosa, iFly Singapore, Sentosa 4D Adventureland, Sentosa Merlion, Cable Car, Segway, Wings of Time and many more. Sentosa is also host to concerts and shows.
TIP: Instead of paying for individual attractions, visitors can purchase Sentosa Fun Passes which allows entry to multiple attractions.
Please view this article for more information on Sentosa Attractions and Rides and their Cost.
---
Singapore Science Centre, Snow City: A Fun Way To Learn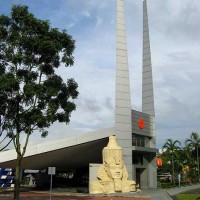 LOCATION: 15 Science Centre Road
COST: Moderate
The primary objective of the Science Centre Singapore is to "promote interest and creative learning in science and technology". Singapore Science Centre has interactive exhibits, shows and demonstrations which foster curiosity and learning in an entertaining way. Science Centre Singapore also has an Imax Omni Theatre, Snow City, which is an indoor snow play, and a kids play area called Kids Stop. The key attraction at "Snow City" is a 60 Mt slide and a three storey snow slope.
TIPS: Combo tickets to Science Centre Singapore, Snow City and Omni Theatre are cheaper than individual tickets.
NOTE: Use of winter jackets and boots is complimentary, but guests will have to rent/buy gloves, waterproof pants and socks. Long pants are compulsory. Visitors can save money by bringing these.
---
Boat Rides on Singapore River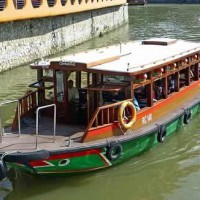 LOCATION: Singapore River
COST: Cheap to Expensive
Enjoy a relaxing boat ride along the Singapore River. A boat ride is an enjoyable way for sightseers to see the buildings in Singapore's business district and in the Marina Bay area. Visitors can either ride on a "Bumboat" (traditional boat) or "Bubble Jet" (air-conditioned charter boats) or "Duffy Boat" (small charter boat) or the "Duck" (amphibious boat that travels on land and water). River Taxi Service is also available along the Singapore River; and at $3, it is the cheapest way of travelling on the river.
Please view this article for more information on Singapore River Boat Rides.
---
Adventure Cove Waterpark At Sentosa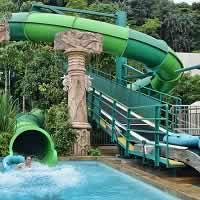 LOCATION: Sentosa
COST: Expensive
Located at the Marine Life Park in Sentosa Island, Adventure Cove Waterpark offers in addition to thrilling rides, the opportunity to get up close to marine animals. The Rainbow Reef at Adventure Cove Waterpark allows guests to mingle with 20,000 fishes. Those exhausted by the rides can take a relaxed ride on a tube on the Adventure River. For an additional cost visitors can swim among sharks in an acrylic enclosure, touch Ray fishes in the "Ray Bay" and have a scuba dip among sea animals.
TIP: Due to height restrictions, very young children may not be allowed on most water rides. Families with young children (below 10 years) will probably have a more enjoyable time at "Port of Lost Wonder", which is located at Sentosa's Palawan Beach. Older kids will probably have the most fun at the Adventure Cove.
Please view this article for information on Water Sports in Singapore.
---
Port of Lost World: Especially For Young Kids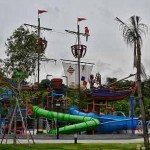 LOCATION: Palawan Beach, Sentosa
COST: Moderate
Port of Lost World is a lovely mix of play area and water-park designed for children. The chief attraction is a wet water play area called "Pirate Ship" which has water slides and water related play things. Young children up to the age of 8 to 10 will absolutely love Port of Lost World.
Children below 12 are charged an entrance fee, whereas accompanying adults enter free.
NOTE: Since kids will get wet, do take a towel and change of clothes.
---
Forest Adventure: Obstacle Course for the Entire Family
LOCATION: Bedok Reservoir Park
COST: Expensive
Located at the beautiful Bedok Reservoir Park, "Forest Adventure" is a fun obstacle course among the trees. The Forest Adventure Grand course is a 35 obstacle course that has to be completed in 2.5 hours. Obstacles include tree swings, trapezes, bridge crossing, wobbly logs, etc. Adults and older children (over 1.4 Mt) will love this course. For younger children over the height of 1.1 Mt, there is a 16 obstacle Kid Course. There is also a, 8 obstacle Mini Course for young kids over the height of 1.0 Mt. Forest Adventure is a fun adventure activity for the family. In addition to Forest Adventure, visitors to Bedok Reservoir Park can also enjoy cycling, water sports, fishing, skating and much more.
NOTE: The Kid Course and the Mini course are closed on weekdays, except on holidays. Annual Adventure Passes are available.
Please visit this article for information on Sports and Sporting Activities in Singapore.
---
RELATED ARTICLES:
---
IMAGES:
Singapore Science Centre: Image by Saeru. Image taken from Wikimedia Commons. Image is licensed under the Creative Commons Attribution-Share Alike 2.0 Generic license. Image has been altered.
For license information of all other images, please refer to their attachment page.