SINGAPORE ZOO
Singapore Zoo is one of Singapore's main family tourist attraction. Spread over 26 hectares in the "Mandai" rain forest, Singapore Zoo has over 2,800 animals, consisting of over 315 species, living in their natural habitat.
What makes the Singapore Zoo unique are the open animal enclosures, amazing animals (White Tigers, Polar Bear, Pandas, Orangutans, Komodo Dragons, Giraffes, Elephants, Lemur, Otters, etc), Breakfast with Orangutans, animal feeding sessions, animal rides (Elephant, Horse, Pony), large kids play area, exhibits and animal shows (4 shows, twice a day).
---
MAIN ATTRACTIONS / HIGHLIGHTS OF SINGAPORE ZOO
Large open Zoo with over 2,800 animals in their natural habitat
Singapore Zoo has interesting animals such as White Tigers, Polar Bear, Pandas, Free Ranging Orangutans, Giraffes, Otters, Elephants, Komodo Dragons, Proboscis Monkey, Zebras, Pygmy Hippo, Flamingos, Otters, Lemur, etc. The latest attractions at Singapore Zoo are two Pandas and Polar Bear, "Inuka".
An immensely enjoyable Water Play Area for Kids with water slides, fountains, water puddles, etc. A must stop destination for all kids. Carry swim wear for the kids and a change of clothes.
Four Animal Shows.
Visitors can have Breakfast with wild animals (Orang Utan, Elephant, snakes, etc) at "Ah Meng" restaurant. (Reservation required)
Animals rides (Elephant, Horse Carriage and Pony). Boat Ride
Animal Feeding (please see Zoo brochure for timings). Zoo has over 40 animal feeding sessions. Visitors can feed the Elephants, Giraffes, White Rhinoceros, Kangaroos, Manatees, Hamadryas Baboons and Goats.
Singapore Zoo has Trams which make it easy for visitors to view the animals without having to walk from one enclosure to another. There are 4 tram stations.
---
MAIN ZONES AT SINGAPORE ZOO
The Singapore Zoo is divided into 11 Zones.
Frozen Tundra: Star Attraction in this zone is "Inuka", the Polar Bear born in Singapore Zoo on 26 December, 1990. "Inuka" means "Silent Stalker" in Inuit. There was controversy surrounding the old enclosure in which Inuka and his mother, "Sheba" had been kept. In June 2013, Singapore Zoo opened a new enclosure called "Frozen Tundra", which has a large pool with ice in it, an ice cave and very low temperature. This zone also has Wolverines ("Boris" and "Ivana") and Raccoon dogs ("Pom" and "Poko"). Feeding sessions are at 10 am, 1 pm and 4 pm.
Wild Africa: Has Cheetah, White Rhinoceros, Zebras, Giraffes, Meerkats, Lions, African Wild Dogs. These animals from the grasslands of Africa are in the South East of the Zoo. Kids will enjoy feeding the Giraffe at 10:45 am, 1:50 pm and 3:45 pm.
Reptile Garden: The two amazing reptiles in this zone are the over 2.5 meter Komodo Dragons and the Giant Aldabra Tortoise. Other reptiles include Rhino Iguana, False Gavial and a large collection of fascinating snakes (Reticulated Python – Longest snake in the world, King Cobra, Rattle Snake, Shore Pit Viper, etc) in the Snake House.
Treetops Trail: Turn left at the entrance and visitors stand on a wooden elevation. This section has a pond and houses rainforest animals – Tamarin, Lemur, False Gavial, Siamang, White-faced Saki Monkey, etc.
Gibbon Island: Located between "Ah Meng" restaurant and the White Tiger exhibit, this zone has "Primates" (Humans too are primates). Animals in this section include White-handed Gibbon, Agile Gibbon, Black Howler Monkey, Red-Ruffed Lemur and Greater Flamingo. Feeding time is 1:40 pm.
Australian Outback: Singapore Zoo has animals and reptiles from Australia, which include Kangaroos, Wallabies, Emu, Cassowary (Dinosaur descendents) and Carpet Python. This section was designed with the "Crocodile Hunter", Steve Irwin. Kids will enjoy the Kangaroo-Wallaby feeding session at 11:00 am and 4:00 pm, where these animals eat from the hands of the visitors. The Australian Outback is located in the West of the Zoo.
Great Rift Valley of Ethiopia: Located next to the "Australian Outback" zone, this zone has animals from East Africa, which include Hamadryas Baboon, Banded Mongoose and Nubian Ibex. There are also authentic Ethiopian huts.
Primate Kingdom: Located in the West of the Zoo near the "Australian Outback", and houses 39 species of Primates (Humans too are Primates). The primates that can be seen hanging from trees are Patas Monkey, Javan Langurs, Douc Langur, Spider Monkey, Colobus Monkey, Lion-tailed Macaque, Sulawesi Crested Macaque, Brown Capuchin, etc.
Fragile Forest: Rainforest environment is recreated in a large Bio-Dome in the North East of the Zoo. Many of these animals, birds, insects and reptiles are found in the rainforest. These include Frogs, Toads, Stingrays (in a small pond), Rhinoceros Beetles, Butterflies, Crowned Pigeons, Lemurs, Sloths, Malayan Flying Fox, Iguanas, etc. Within the dome there are no barriers so these animals, insects, birds are frequently seen near the visitors. There is also an interesting exhibit on insects.
Critter's Longhouse: Animals in this section are Leopard Cat, Goeldi's Monkey, Malayan Porcupine and Spotted Mousedeer.
Tropical Crops and Orchid Garden: This colorful zone is located at the East of the Zoo facing Seletar Reservoir. It contains over 50 species of edible tropical plants and a lovely Orchid Garden.
In addition, there is a large Children's Wet Play area at the North of the Zoo called "Rainforest Kidzworld". This is a great place for kids to get wet, splash water, slide in water slides and have a great time.
---
PICTURES OF SINGAPORE ZOO
---
ANIMAL SHOWS AND EVENTS AT SINGAPORE ZOO
| Shows | Venue | 1st Timing | 2nd Timing |
| --- | --- | --- | --- |
| Splash Safari Show | Shaw Foundation Amphitheatre | 10.30am | 5.00pm |
| Animal Friends Show | Rainforest Kidzworld Amphitheatre | 11.00am | 4.00pm |
| Elephants at Work & Play | Elephants of Asia | 11.30am | 3.30pm |
| Rainforest Fights Back | Shaw Foundation Amphitheatre | 12.30pm | 2.30pm |
---
TIPS FOR VISITORS TO SINGAPORE ZOO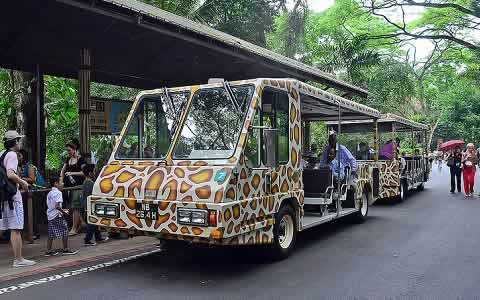 Visitors plannings on visiting Singapore Zoo, Jarong Bird Park and the Night Safari can save money by purchasing the "PARK HOPPER 3-in-1" ticket [Adult SGD $69, and Child SGD 46.00]. If you intend to visit 2 attractions (Zoo, Night Safari or Jarong Bird Park) we suggest you consider the "PARK HOPPER 2-in-1" ticket. The Park Hopper allows visit to the attractions on separate days within 30 days of purchasing the ticket.
Singapore can get hot. The humidity adds to the discomfort. Ensure you drink adequate water. There are water fountain all over the place. Cover your head; take a cap along.
Popular shows, like "Elephants at Work and Play", get filled quickly. Reach the venue 10-15 minutes before start of the show.
Ideally, 2 days are required to see all the animals, all the shows, all the exhibits and also spend time in the Children's play area.
Weekends and holidays are crowded. If possible, try to avoid them.
For elderly visitors, and those with kids, purchasing the unlimited tram ticket (SGD $5.00 for adult and SGD $3.00 for kids) is a wise choice. Since the park is large, the tram makes it easy to move from one place to another.
At closing time there are large lines for buses and taxis. To avoid the crowd, visitors may want to leave the Zoo 30 minutes before the official closing time of 6:00 pm or wait 30 minutes after the closing time.
Frequent visitors may consider purchasing a cost effective Membership card. Click on this site for details on Zoo Membership. Card members do not have to stand in queue for tickets.
Singapore Zoo gives special discounts for visitors with "Disability Development Registry" (DDR) identity card. Two accompanying minders also get 20% discount on ticket cost.
---
SINGAPORE ZOO TIPS FOR TOURIST WITH KIDS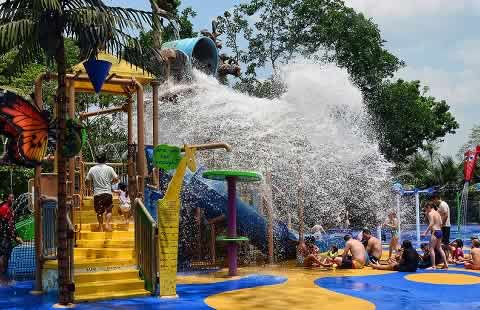 Carry swimwear for kids, along with towels and a change of clothes. Kids will have fun at the Children's Play Area ("Rainforest Kidzworld") at the northern end of the Zoo. The chief attraction here is the Wet Area. This Water Area is very popular because in the middle of a hot Singaporean day, it allows kids to get drenched under water showers, glide down water slides, roll in water puddles and splash water all over the place. There are shower areas where children can bathe. Besides the Wet play area, there are also Carousal, Pony rides, live giant rabbits and a play area (limited apparatus and in poor condition).
Carrying small kids around the Zoo will be tiring. We suggest visitors get their strollers. Wagons (SGD $15) and Strollers (SGD $9) are available for hire. Wheelchairs are free. Adventure scooters (driven by an adult) and lockers are also available for hire.
Children will enjoy feeding the animals. Please refer to the Zoo brochure for timings. Reach the designated spot 10-15 minutes before the feeding time.
Children of Local Singaporeans and permanent residents are allowed FREE admission on their birthday. They also get a complimentary ice cream.
---
SINGAPORE ZOO TIMING AND OPENING HOUR
Singapore Zoo Opening Time: 8:30 am
Singapore Zoo Closing Time: 6:00 pm
---
COST OF ADMISSION TICKET TO SINGAPORE ZOO
NO TICKET (Free admission) for Children below the age of 3. "CHILD" ticket is for kids between the ages of 3 and 12.
| TYPE OF TICKET / PASS | ADULT | CHILD |
| --- | --- | --- |
| Zoo Ticket (Only) | 22 | 14 |
| Zoo Ticket (With Tram) | 27 | 17 |
| Park Hopper 3-in-1 (Zoo, Bird Park, Night Safari)69 | 69 | 46 |
| Park Hopper 2-in-1 (Zoo & Bird Park) | 39 | 26 |
| Park Hopper 2-in-1 (Bird Park & Night Safari) | 49 | 32 |
| Park Hopper 2-in-1 (Zoo & Night Safari) | 49 | 32 |
NOTE:
Panda Viewing ticket cost extra at the Zoo.
Kidzranger Tour for children between age 5 to 12 is $15.
Wild Discoverer Tour (with a guide) is $28.00 for an adult and $18.00 for a child (Admission ticket is extra).
Guided Tram Ride cost $5.00 for an adult and $3.00 for a child.
---
SINGAPORE ZOO ADDRESS AND MAP
HOW TO GET TO SINGAPORE ZOO BY TRAIN AND BUS
| Nearest MRT stations | Connecting buses |
| --- | --- |
| Ang Mo Kio | Bus No. 138 (From Ang Mo Kio bus interchange) |
| Choa Chu Kang | Bus No. 927 (From Choa Chu Kang bus interchange) |
| Woodlands | Bus No. 926* (From Woodlands bus interchange, ONLY ON SUNDAY AND PUBLIC HOLIDAY) |
| Marsiling | Bus No. 926* (From across the road at Woodlands Ave 3, ONLY ON SUNDAY AND PUBLIC HOLIDAY) |
Singapore Attractions Express (SAEx) operates buses from different parts of Singapore to the Zoo. Visit their site for details of time and locations.
---
ATTRACTIONS NEAR THE SINGAPORE ZOO
Singapore Night Safari
River Safari
SINGAPORE ZOO OFFICIAL WEBSITE
---
RELATED ARTICLES:
---
Both Children's Play area Images and tram image by Choo Yut Shing. Image used under Creative Commons license CC BY-NC-SA 2.0.
Image of the 2 white tigers is from Wikimedia Commons Image by Nachoman-au. This file is licensed under the Creative Commons Attribution-Share Alike 3.0 Unported license.
White Tiger in water Image by Tim Sheerman-Chase. Image used under Creative Commons License CC BY 2.0.
Elephants image is from Wikimedia Commons Image by Chensiyuan. This file is licensed under the Creative Commons Attribution-Share Alike 3.0 Unported license.